Korea Figure Skating Girl Park So-Youn Single (Dankook University) The 2016 International Skating Union (ISU) 'Top 10 re-entry at the world championships (March 30-April 4, Boston, USA) challenge '.
Park So-Youn (26th world ranking) had a 30-day leave Incheon International Airport 27 days to participate in the 2016 World Championships held at the TD Garden in Boston from (Korea time) in Korea time.
Park So-Youn goal of this competition is to raise the name back to the top 10 single women.
He raised the first comprehensive exhibition that occupies ninth place in the 2014 World Championship Women's Singles 'figure queen' Kim and the entering into Korea as the only players since retired from active duty top 10.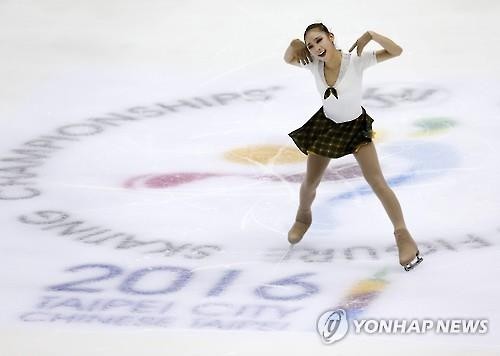 Rank 12 in the last tournament, but fell over the Park So-Youn writes the 2016 ISU Four Continents Championships in their former authorized peak of 176.61 points from last month, held in Taiwan and boosting the confidence climbed above 4 ahead of the tournament.
Park So-Youn challenge is to reduce mistakes.
Four Continents Championships last month in the free skate fell from a triple flip, double Axel – Take a lack of judgment can rotate in triple toe loop combination and missed the bronze medal in sight.
Because of this, Park So-Youn is laying the getdaneun prepared to taste again the joy of "reduce mistakes" Two years ago, achieved top 10 in the tournament through.
Most naseoneun single women with blank Park So-Youn (repair, and 37th world ranking) also collects expectations.
Most challenging is the first time the World Championships, senior stage is empty after having won the sixth place in the 2014 World Junior Championships Women's Singles gotta ranked in the World Junior Championships last year, nine were successful in two consecutive years in the top 10.
Most sharpening your skills in the junior stage, wipe the empty occupy ninth place at the Four Continents competition last month and raised the hopes of his first senior world championships debut stage.
Men's Singles Men's Singles, the country sets out the maximum (223.72 points) holder, Lee June-Hyoung (Dankook University, world ranking 39).
Last year, the first challenge perching on the 19th at the World Championships Lee June-Hyoung is preceded by a quadruple toe loop (Public 4th round) polishing before the tournament Challenge to raise pull rank.
In addition, there ice dance Rebecca Kim – US Smirnoff Cyrillic (Russian) Joe appearances, sets out the Washing regret not to follow the pre-qualifying dancing over a mere 26 in last year's short dance.
Related Articles : http://sports.media.daum.net/sports/general/newsview?newsId=20160327162630026